---
21-08-2019
Grant of special Casual leave letter to attend the CWC meeting of SNEA to be held at Bangalore from 29.08.2019 to 30.08.2019.
Letter
---
21-08-2019
Meeting at PMO on BSNL Revival Plan on 20.08.2019:
Principal Secretary to the Prime Minister, Shri Nripendra Mishra called a meeting today at 3.30 PM in PMO to discuss the draft Cabinet Note on Revival of BSNL.
1. 4G proposal accepted as 100% capital infusion. GST portion should be funded by BSNL as it cannot be done by Capital infusion.
2. VRS proposal followed by retirement age reduction to 58 accepted.
3. Proposal for SPV for land monetization and transfer of BSNL loan NOT accepted. SPV experience was a failure in the case of Air India.
4. BSNL land monetization proposal accepted. Land, OFC and Towers will be monetized and will be monitored by a Committee consisting of BSNL, DoT and DIPAM.
5. BSNL and MTNL merger proposal dropped. It will be taken up later on. Revised Cabinet Memo will be going to the Cabinet directly, most probably next week.
---
15-08-2019

---
09.08.2019
On 07-08-2019 BSNL signed an MOU with Sreedevi Digital Pvt. Ltd.( MSO) to provide FTTH connections on Revenue sharing basis in 6 Districts Visakhapatnam; Srikakulam; Vizayanagaram; Rajamundry; Vijayawada & Gunturu in AP Circle. MOS presently have 6 Lakhs cable connections. Another MoU will be signed by next week for another 5 Districts. Com Satya Prasad AGM EB, Vishakhapatnam and our CWC member has taken the initiative.

---
08.08.2019
As per call given by the AUAB CHQ ,Lunch hour demonstration was conducted on 07/08/2019 at Circle Office ,Vijayawada and SSA headquarters. Comrades of AUAB have participated in this LHD and made it grand success.
Com J UmamaheswaraRao CS SNEA ,Com A KoteswaraRao CS AIBSNLEA,COM P Ashok Babu BSNLEU,Com CH Chandrasekhara Rao CS NFTE and other leaders of AUAB addressed the huge gathering at CGM Office,Vijayawada.
Glimpse of Photos
---
06.08.2019
Welcoming new

CGM Sri V V S Raghava Kumar

by Com. J Umamaheswara Rao CS SNEA AP,Com. S S T Sai CT SNEA AP, Com. J S Anwar Basha DS Krishna SSA , Com. R Brahmananda Reddy DS Vijayawada City Division and SNEA comrades.
View Photos
---
05.08.2019
AUAB,AP Circle meeting held on 05.08.2019 decided to organise lunch hour demonstrations and gate meetings throughout the AP circle, on 07th August, 2019 raising the following demands.

(1) Honouring the commitments given by the Union Cabinet in the year 2000, to ensure BSNL's financial viability.




(a) Extend immediate financial support to BSNL, for the maintenance of the services.




(b) Extend soft loan to BSNL for it's capital expenditures.





(2) Remove the total ban imposed on capital expenditure by BSNL. Allow field units to carry out capital expenditure, where ever revenue is assured.



(3) No retrenchment. Honour the commitment given on job security at the time of formation of BSNL.

(4) Stop repressive actions for even legitimate trade union activities.
AUAB AP CIRCLE NOTICE


---
26.07.2019
The General body meeting of SNEA, Krishna and City division Vijayawada was held at Makineni Basava Punnaiah Vignana Kendram, Vijayawada on 14th July 2019. Krishna District secretary Com J.S.Anwar Basha welcomed the guests and the members to the house. The meeting was conducted under president ship of Com Ch Venkata Rao CVP SNEA. Our beloved GS Com K. Sebastin, Com J UmaMaheswara Rao, CS SNEAAP, Com A. Chandrasekhar JS South, Com Com S.S.T.Sai, Circle Treasurer SNEA AP were distinguished guests on the occasion. Com G Acheswara Rao ACS SNEA AP , Com K Hanumantha Rao ACS SNEA AP,Com M.Chalamaiah CWC Member,Com Sasidhar ACS SNEA AP, Com J.S.Anwar Basha DS Krishna SSA and Com R. Brahmananda Reddy shared the dais. Comrades from neighbouring SSAs i.e Guntur, W.G, E.G, Ongole and Nellore also attended the meeting.
After completion of opening remarks by the president Com Ch VenkataRao ,Circle secretary Com J UmamaheswaraRao addressed the session and requested GS to enlighten all the latest developments on revival of BSNL. GS Com K Sebastin addressed the session mainly covering the issues related to Revival of BSNL and important HR issues:
1. Financial position of BSNL:
The loss is estimated to be around Rs 1,4000 crore with decline in revenue from Rs 25000 crore in 2017-18 to Rs 19,000 cores during 2018-19 financial year. The pending liabilities of BSNL is around 13000 crore (4,000 OPEX + 4,000 CAPEX + Advance received from NOFN, LWE etc). At present monthly revenue is just 1,300 to 1,400 crore whereas the expenditure is around 2,300 crore and the deficit is around 1,000 crore per month. At present there is a slight improvement in revenue.
2. Allotment of 4G spectrum.
Govt never interested to provide 4G spectrum to BSNL. In both 2G/3G and 4G, Govt actions delayed BSNL services. In 2G/3G, Govt, interfered in tenders and in the case of 4G, spectrum not allotted. When the employees started agitation throughout country, Govt had some rethinking at the level of Secretary and MOC. But officers down the level are not at all interested and they are against providing spectrum to BSNL, citing the Hon Supreme court order on 2G spectrum case in which SC ordered that all the Natural resources should be sold on auction only. After new Minister is taken over, some positive developments are taking place on 4G spectrum and Govt trying to get a positive Legal advice on the matter. DOT is planning to allot 4G spectrum at the cost of around 14155Cr+12%GST by way of 100% Govt equity infusion.


3. Monetizing of Lands:
Proposal is for taking over of overall loan of BSNL and MTNL by an SPV with land parcels for equal amount. With this both the companies will become zero debt as SPV will take care of debt. Further BSNL will be allowed to monetize the remaining land, Optical fibre and Towers for meeting the expenditure for CAPEX and it will be monitored by a Committee of officers from DoT, BSNL/MTNL and DIPAM (
Department of Investment and Public Asset Management
)
. Previously SPV was proposed for Land, optical fiber network and tower monetization but now it is only for land monetization (about 29 land parcels with value around 20,000 cores only).
4. Merger of BSNL and MTNL:
The proposal is to make MTNL a debt free company and then a subsidiary of BSNL. The main hurdles of merger of BSNL and MTNL are
a) MTNL having huge loan and 60% revenue is being used for paying interest and loan repayments.
b) MTNL is listed company
c) HR issues like difference in pay scales, pay, promotions, seniority, liability of transfer etc
SPV will take care of MTNL loans and MTNL will become debt free. A committee being formed with BSNL, MTNL and DOT officers for addressing other issues like delisting the MTNL and resolve all HR issues within 18 months of time and thereafter full merger with BSNL.
5.Proposal for VRS for the employees above 55years of age and then retirement age reduction to 58:
Govt linked establishment cost reduction as part of the revival plan. Further Govt is not ready to consider any revival plan without staff reduction as it will not help revival of BSNL, according to the Govt. The ex-gratia is worked out in such a manner that ex-gratia plus pension amount will be 25% higher than the present pay (i.e salary +full pension). The Employees who will opt for VRS will get almost 25% higher amount as ex gratia +pension. Ex- gratia amount, Leave Encashment & full Pension (without Commutation) will be paid immediately after VRS. But the Gratuity with 8% interest and Commutation Payment will be made on attaining the age of 60 years.
VRS options may be asked from 01.10.2019 onwards. Govt is expecting nearly 70000 employees will be opted this VRS and around 6000 crore will be saved per annum. After completion of VRS, retirement age reduction to 58 will be thought of w.e.from 01.01.2020. Reduction of retirement age to 58 may be a temporary measure for few years as in the case of ITI. In ITI, few years back retirement age reduced to 58 but two months back restored it to 60. SNEA is continuing its efforts to incorporate the 3rd PRC also part of the Revival Plan as recommended by IIM, Ahmadabad.
If VRS is implemented, it will have huge impacts on the cadre like massive redeployment, sharing of the additional work load by the remaining employees, absence of support staff etc in addition to the fact that the remaining employees also will lose two years of service and salary due to retirement age reduction. Since the excess staff is being sent on VRS, all the posts they are holding and the existing vacancies will cease to exist.
In the given situation, there is no much choice left for us and we are continuing our best efforts to get the revival plan approved. Assn will be taking a final call on these issues once final picture is known to us.
6. Restructuring proposal in BSNL:
BSNL Board already put on hold all the direct recruitments. New norms are being worked out and the fresh justification of posts will be worked out.
7. Superannuation benefits and EPF higher pension:
As per assurance given by CMD, 3% enhancement of superannuation fund is to be processed by March, 2019. Unfortunately due to the salary crisis, BSNL Board is not taking up any proposal having additional financial implications. Hence enhancement of 3% SAB proposal is not materialised so far even though SNEA and AUAB continuing its persuasion.
After Kerala High court and Supreme Court verdict on higher pension the EPF office filled two review petitions on it. One review petition was dismissed and other one is still pending. NCOA is party in the Hon Supreme Court on the cases filed for Full Pension. SNEA and NCOA are closely associated with the court cases at Hon SC. SNEA is closely monitoring and pursuing the issue.
GS also elaborately spoken on PRC, Promotions, CPSU hierarchy, standard pay scales, pay loss of Executives of 2007 batch onwards, first TBP after 4 years and E1A/E2A for Civil/Elect etc. All the issues are still live and SNEA is continuously pursuing. On DGM promotions, M.A is proposed to be filed shortly for early hearing of the matter. Now vacancies available to accommodate all the eligible AGM/DEs on DGM promotion as large number of AGMs and Adhoc DGMs are retired. GS also cleared all the doubts raised by members during interaction session.
Felicitation was conducted to retired DGMs Com V K Pasad Reddy CEC member SNEA Krishna and Com CH Vijay Kumar President SNEA City division Vijayawada and GS Com K Sebastin. The general body meeting was concluded with vote of thanks by Com R. Brahmananda Reddy, DS, VJ City Division.
View Glimpse of Photos
---
23.07.2019
Our continuous persuasion with BSNL Management, DoT, Hon Minister and Hon Prime Minister for arranging funds getting momentum:
On last Friday, 19.07.2019, different bankers had a meeting with BSNL management for arranging loan for BSNL. As a follow up action, a meeting being held at DoT today, 22.09.2019 with the bankers, chaired by Secretary DoT. CMD BSNL made a detailed presentation to the bankers. BSNL and Govt is impressing upon the bankers about the BSNL revival plan and the urgent need for loan.
SNEA drawn the attention of the Govt at various level by taking up the issue with Secretary/DoT, Hon Telecom Minster and finally at the highest level of Govt by writing to the Hon Prime Minister on 15.07.2019 for facilitating immediate loan to BSNL for meeting the expenditure towards OPEX and CAPEX, till revival package is implemented.
---
23.07.2019
It is understood that the Group of Ministers suggested considering VRS for the employees above 50 years of age. Accordingly the draft Cabinet note will be modified and circulated to the nodal ministries by this week end. Earlier proposal was VRS for the employees above the age of 55.
---
23.07.2019
Meeting with Sri Arun Kumar, PGM(Pers) on 22.07.2019: GS, President and both AGSs met PGM (Pers) and held discussions on:
1) Stopping the proposed move of reversion of SDEs promoted in 2008 through LDCE: We informed PGM (Pers) that JTOs of 2001 batch are eligible as per the provisions of RR and the clarifications issued by BSNLCO to different Circles during the notification of LDCE. Since BSNL declared them eligible, it is the responsibility of BSNL to protect their promotion also. The subsequent clarification issued after the conduction of the LDCE should be applicable prospectively, not retrospectively, we told. SNEA also drawn the attention of PGM about the earlier instances SNEA taken up the issue and the stopping of reversion on earlier occasions. Since they are already promoted as SDEs, they could not appear for subsequent LDCEs conducted by BSNL, sealing their future. PGM informed that BSNL is interested to protect them and will try to help them but it is a court verdict.
2) DGM (T) promotion: The MA is filed at Hon CAT, CDG. It is expected to listed for hearing this week.
3) Pending request transfers: PGM assured to clear the request transfer which are forwarded through proper channel
---
10.07.2019
The Cabinet Memo on BSNL and MTNL Revival Plan is approved by the Hon Minister and will be sent to other nodal Ministries today or tomorrow for their comments:
It is learned that Cabinet Memo is redrafted based on the discussion between Cabinet Secretary and Secretary DoT. The proposal includes:
1) 4G spectrum by 100% Govt equity infusion.
2) Taking over all the loan of BSNL and MTNL by an SPV with land parcels for equal amount. SPV will care of debt only.
3) Allowing BSNL to monetize the remaining land, monitored by a Committee of officers from DoT and BSNL.
4) VRS for the employees above 55 years age and then retirement age reduction to 58. Funding will be through bonds having sovereign guarantee of Govt of India. The ex-gratia is worked out in such a manner that ex-gratia plus pension amount will be 25% higher than the present pay.
5) Merger of BSNL and MTNL in a phased manner after addressing the contentious issues. Initially, debt free MTNL will become a subsidiary of BSNL.
---
08.07.2019
Inauguration of SNEA Krishna SSA office held on 02.07.2019 at BSNL bhavan premises, O/o GMTD, Vijayawada. Sri Y Ravindranath GMTD, Veteran leader Com G L Jogi Ex GS SNEA, A Viswanath CP SNEA AP, J Umamaheswararao CS SNEA, Com E Jaganmohan Reddy CP SNEA TS, Com A Chandrasekhar JS South SNEA and Com Mutthu Ex Treasurer SNEA CHQ graced the inauguration function. Sri Y Ravindranath GMTD inaugurated the SNEA Office by ribbon cutting. Veteran leader Com G L Jogi unveiled the photograph of vetern leader Late W Seshagiri Rao,Ex GS SNEA and Com A Viswanath garlanded the photograph of Late W Seshagiri Rao.
Com V Krishna Rao DP SNEA Krishna SSA , Com J S Anwar Basha DS SNEA Krishna shared dais with the chief guests. Sri K.V.Krishna Rao DGM(Admn), Sri K.V.S Raju DGM(CFA), Sri V.S.Nagalingeswara Rao DGM(EB),Com S.S.T Sai CT,SNEA , Com M Rajasekhar reddy ACS SNEA AP ,Com G Acheswara Rao ACS SNEA and Circle secretaries and District Secretaries of Sister unions and Associations also attended this inauguration function. Veteran leader Com G L Jogi delivered excellent motivational speech on present BSNL crisis and other chief guests also addressed the huge gathering.
SNEA Krishna thanked Sri Y Ravindranath GMTD for allotting SNEA Krishna office accommodation at Vijayawada. The inauguration function concluded with vote of thanks by Com J S Anwar Basha DS SNEA Krishna.
On 01.07.2019 Veteran leader Com G L Jogi Ex GS SNEA, veteran leader Com S L Reddy, A Viswanath CP SNEA AP, J Umamaheswararao CS SNEA, Com A Chandrasekhar JS South SNEA, Com E Jaganmohan Reddy, CP SNEA TS, Com CH Venkata Rao CVP SNEA AP, Com V Ravikumar reddy Ex.ACS HQ SNEA, Com Satya Prasad CWC Member SNEA AP, Com M Rajasekhar reddy ACS SNEA, Com RaviKishore DS SNEA EG, Com. Satyanarayana Rao, DP, Vizag and Com Mutthu Ex Treasurer SNEA CHQ graced the retirement function of the Senior leader of SNEA Com V K Prasad Reddy at Vijayawada.
View glimpse of Photos
---
05.07.2019
GS writes to Shri. Ravi Shankar Prasad, Hon'ble Cabinet Minister for Communications

:
test
---
01.07.2019
SNEA AP extends best wishes for all comrades who retired on 30.06.2019 on superannuation, for a happy and peaceful retired life

.
Comrade you are starting a new journey and exceptional chapter of your life. May your days be filled with elation and triumph. We thank you for your dedication & congratulate you on your retirement.
---
25.06.2019
Meeting with Shri Arvind G Sawant, Hon Union Cabinet Minister for Heavy Industries and Public Enterprises:
GS, President, AGSs Com P P Rao, Com Dilip Saha and Com Sanjeev Sharma had a meeting with Hon Minister and held detailed discussions regarding revival of BSNL. He is an Ex employee of MTNL and the President of the recognised Trade Union of MTNL/Mumbai. Hon Minister is aware of the issues to a larger extent and assured that he will support all the proposals that will help revival of BSNL. He is monitoring the performance of other PSUs also and focussing its revival. He advised us to focus on revival of the company at the crisis period and bring more and more suggestions which will help BSNL.
Hon Minister assured to discuss the important issues mentioned in our memorandum with our Minister, Shri Ravi Shankar Prasad. This meeting was facilitated by senior Com A R Manani, Ex CHQ OB and CS/MH Circle.
---
25.06.2019

Modalities for settlement of welfare claims through LIC.
The following documents are required for settlement of the claims by LIC. CSs may forward the welfare claim application with the following documents:
1. Death Certificate.
2. KYC (copy of Aadhar/PAN etc) of the deceased employee and the nominee.
3. Cancelled cheque of the nominee.
The welfare claim amount increased from Rs 1 lakh to 1.5 lakhs.
Every month, the list of members for whom subscription is deducted from salary is submitted to the LIC along with the premium for their coverage. Those names available in the list only will be eligible for welfare claims hereafter. So all the Branch/SSA/Circle Secretaries are instructed to ensure that new members and those who are not in check off system is brought under check off system every month.
---
21.06.2018
GS writes to Shri Ravishankar Prasad, Hon MoC: Non implementation of 3rd PRC, the recommendations of the Premier Consultant, IIM(A) on revival of BSNL is going to be definitely disastrous and counterproductive for revival of BSNL. The beginning of implementation of IIM(A) recommendations must commence with implementation of 3rd PRC in its totality so as to pave the way for smooth and productive implementation of other crucial recommendations.
GS letter to Shri Ravishankar Prasad, Hon MoC
---
21.06.2018
GS writes to Shri Ravishankar Prasad, Hon MoC: Expressing serious concern regarding the proposed move to roll back the retirement age from 60 to 58 years. It is against the General Terms and Conditions for absorption in BSNL which assured superannuation in accordance with Govt Rules applicable to PSUs. Selectively lowering the retirement age for BSNL employees alone may lead to litigations as the employees are losing in several ways. Requested that any decision on rolling back of retirement age should be taken only by addressing the issues.
GS letter to Shri Ravishankar Prasad, Hon MoC
---
21.06.2018
My sincere gratitude to one and all:
Finally all the charges levelled in the charge sheet served to Com K. Sebastin, General Secretary, SNEA on 18.08.2017 is dropped by the disciplinary authority. The orders, dropping all the charges is served to the General Secretary, today evening.

The charge sheet was issued under major penalty for serving notice for Trade Union activities to settle the HR issues like E2, E3 pay scales, CPSU Hierarchy, 30% SAB etc. Finally management accepted the right to protest by the Association and dropped all the charges as pursued by the Assn.

We wholeheartedly appreciate the initiative taken by Shri Anupam Shrivastava, CMD/BSNL, Smt Sujata T Ray, Ex DIR(HR), PGM(Pers), GM(SR) and others for settling the matter, recognising the spirit of Trade Union and the rights of TUs and Associations. Before her retirement, DIR(HR), the disciplinary authority had taken the decision to drop all the charges and the formal order is served today. Com B G Patel, CS/GUJ and Com Rakesh Mehta, VP were at HQ for days together for pursuing the matter along with President and both AGSs at HQ. Besides, there were host of Comrades like Com George Varghese and others who had shown great concern and taken initiative.

I am extremely grateful to all our Office bearers at different levels, CSs and all our members who stood with me and supported me during this period by following all the organizational calls given by CHQ inspite of the charge sheet and criminal charges faced by the GS. I extend my gratitude to all other Trade Union/Assn leaders for their sincere support.
General Secretary.
---
21.06.2018
JTO to SDE promotion:
Arguments on the review petition filed by BSNL completed and judgment reserved. Till then proceedings on contempt petition stayed.
---
05.06.2019
---
01.06.2019
The district conference of SNEA,Guntur held 0n 26.05.2019 at conference hall, O/o GMTD Guntur with great enthusiasm and spirit. The session was started at 10:00 Hrs with the welcome message by Com.K.Hanumantha Rao ,ACS,AP Circle. The meeting was conducted under president ship of Com.G .SrinivasaRao. Com.J.Umamaheswara Rao,CS AP Circle, Com.S.S.T.Sai,Circle Treasurer AP Circle and Com. Anwar Basha DS Krishna SSA were distinguished guests on the occasion. After completion of opening remarks by the president, Com .A.Mohana Reddy Dist secretary and K.Samabasiva Rao, Dist Treasurer submitted their reports and were adopted by the house after deliberations.
After completion of detail deliberations on organizational matters, Circle office bearers addressed the session. Com J Umamaheswara Rao,CS addressed in detail on organizational matters and clarified the doubts raised by the members.
The old body was dissolved and new executive body has been elected with the following members unanimously:


District President Sri G.Srinivasa rao, AGM(TX),GTR 9490188399
District Vice-President Smt N.V.Sasi Bala, AGM(NIB),GTR 9490188388
District Secretary Sri K.Sambasiva rao, JTO(BB),GTR 7352050050
Assistant District Secretary1 Sri G.Kalyana Chakravarthy, JTO PBZR GTR 9491217789
Assistant District Secretary2 Sri KVSRK Rao, SDE(PCM) 9490188636
District Treasurer Sri T.Santha Kumar, SDE( R-1) GTR 9490138666
Organizing Secretary1 Sri T.Raj Kumar, JTO (EB) GTR 9490487788
Organizing Secretary2 Sri K.S.Rama Krishna, SDE (MSC),GTR 9490000984
Organizing Secretary3 Sri V.Hari babu, JTO (TX) TEN 9490000236
Organizing Secretary4 Sri Ch.Naga Raju, JTO(Intl) MII 9491441828
After closing remarks by the president the District conference concluded with vote of thanks by Com.B.Sudheer.



SNEA AP Congrats and extend its best wishes to the newly elected Guntur District Office bearers

.

View Glimpse of Photos
---
31.05.2019
SNEA AP extends best wishes for all comrades who retire today on superannuation, for a happy and peaceful retired life

. Comrade you are starting a new journey and exceptional chapter of your life. May your days be filled with elation and triumph. We thank you for your dedication & congratulate you on your retirement.
---
30.05.2019
On 29.05.2019 12A.M Com J UmaMaheswara Rao ,CS AP circle and Sri Laxman Singh Ropia ,PGM(CFA) met the CMD Transco Sri. K. Vijayanand IAS, in his chamber and submitted a letter requesting that BSNL power connections should not be disconnected even though there is a delay in payment. The CMD immediately accepted our request and said that he would inform the CMDs at Tirupathi and Visakhapatnam not to disconnect power supply to BSNL equipment.AP Circle promised to clear the bills in the phased manner. Also CMD informed us to submit the letters to both the CMDs at TPTY and Vizag. Even after this if any problem is there then kindly reverts to us so as to resolve the issue. Our CGM office is directing all the SSA GMs accordingly.
---
22.05.2019
GS writes to CMD, BSNL: Complete review of AMC of various equipments, switches, Engine Alternators, small power plants, Air conditioners etc required as part of austerity measures. On one side BSNL is talking about excess staff and planning for VRS and on the other side, cores of rupees expenditure is incurring as AMC charges by outsourcing the work on the pretext of acute shortage of Executives. This contradiction establishes the utter failure of our HR activities in BSNL.
---
08.05.2019
GS, President and both AGSs met Shri Anupam Shrivastava on 08.05.2019 and held discussions on
i) Promotions and bringing party in promotions,
ii) DGM promotion,
iii) HR Integration and
iv) permission for transfer on interest of service for meeting the shortages in KTK and KRL Circles.
---
01.05.2019
---
30.04.2019
SNEA AP extends best wishes for all comrades who retire today on superannuation, for a happy and peaceful retired life.
Comrade you are starting a new journey and exceptional chapter of your life. May your days be filled with elation and triumph. We thank you for your dedication & congratulate you on your retirement.  
---
30.04.2019
Step by Step SAB Pension contribution login procedure on LIC portal :
SAB ONLINE
---
26.04.2018
Today evening, VC report has been mailed to BSNL CO, New Delhi in respect of AGM to DGM promotion. Same information has been given to our CHQ for confirmation. Thanks a lot to our dynamic vigilance unit and AP circle administration for their immediate response.
---
17.04.2019
AGSs P.P.Rao and Sanjeev met Sr GM Establishment Sh Saurabh Tyagi and discussed on the issue of GTI. He assured to look into the issue. View Copy of the letter of GS to GM training regarding GTI deduction. Further it was also informed that the Pension Contribution on actual basis is pending in Ministry of Finance (MoF) and they are trying to meet the concerned Officers in MOF.

---
17.04.2019
Re Tweet the following message which is available @savebsnlindia: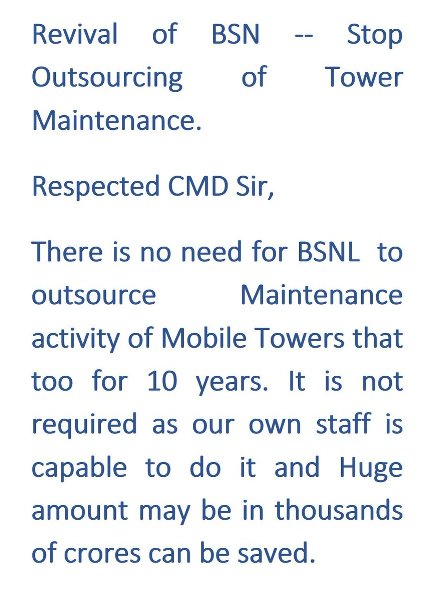 All CHQ Office Bearers, Circle Secretaries, CWC Members, Circle Office Bearers, District Secretaries, CEC members, District Office Bearers should educate and ask all Executives in their local Whatsapp group to retweet the message. The Twitter message is sent to Hon. Prime Minister, Hon. MoS(C) sir, DoT, and all Electronic and Print Media also.  
---
---
14.04.2019
SNEA AP pays it's respectful homage to Dr.B.R.Ambedkar, on the occasion of his 128th birth anniversary.
---
10.04.2019
Guidelines relating to transfer and posting - rationalisation of expenditure reg.
Corporate Order
Board level and below Board level posts including non-unionised supervisors in Central Public Sector Enterpries(CPSEs)- Revision of Scales of Pay w.e.f. 01.01.2007 - Payment of IDA at revised rates regarding.
Government to 'relook' into BSNL 2G spectrum expiry
---
---
04.04.2019
Media News


1.Supreme Court clears path for pension to rise manifold for employees in all firms
2.'DoT to seek EC nod to take BSNL's VRS, 4G spectrum proposals to the Cabinet'
---
02.04.2019
SNEA AP extends best wishes for all comrades who retired on 31.03.2019 on superannuation, for a happy and peaceful retired life. Comrade you are starting a new journey and exceptional chapter of your life. May your days be filled with elation and triumph. We thank you for your dedication & congratulate you on your retirement.
---
02.04.2019

How the Govt, TRAI and Niti Aayog systematically made BSNL an incipient sick CPSU Editorial – March 2019



Systemic and meticulously calibrated decimation of the strategic PSU, BSNL, by the Government, covertly and overtly aided and abetted by the regulator TRAI, Digital Commission, and coveted National policy framing body - the Niti Aayog.



All tacitly colluded to ensure that R-Jio somehow becomes the monarch of precious Data at the cost of allowing Telecom Sector to perish and adversely impact the health of the PSBs.





BSNL took birth on 01.10.2000 as a matter of policy compulsion, consequent upon opening up of telecom sector to the private capital as a sequel to implementation of National Telecom policy promulgated in 1995. Since birth of BSNL, successive Governments used it as a milking cow to meet social obligations of the Telecom Policy in an extraordinary manner, meeting the fundamental and envisaged objective of National Telecom policy set out in 1988 by the first Telecom Commission of the Country - Affordable Telecom Services of Universal Quality. In meeting this ordained Telecom Policy objective of the Government, BSNL never looked back while incurring incredibly huge losses.





While BSNL was forced to provide telecom services in the remotest inaccessible areas of the Country, the concrete policy commitments that were made by the Government to support BSNL to provide services in these highly unremunerative and loss making areas systematically and gradually started getting eroded. Access Deficit Charge(ADC) and USO Fund Subsidy were arbitrarily stopped, IUC charges were drastically slashed, private operators were allowed to change over from fixed license fee to revenue sharing etc etc. Govt. did not allow BSNL to start mobile services till 2002, giving strategic market advantage to early movers like Airtel. All these policy breaches by the Govt. adversely and irreversibly hit the revenues of BSNL, and jeopardized the growth of the incumbent operator. Even though BSNLs entry in highly potential mobile segment was delayed by more than two years, BSNL came very close to the then leading mobile service provider, Airtel, in terms of mobile market share in the year 2006, when the then Telecom Minister directly interfered in the mobile tender process and, at the behest of vested interest equipment manufacturers, canceled 45.5 million mobile tender that was finalized in a highly transparent manner. Even thereafter, the story of destabilizing BSNL continued unabated when BSNL was not permitted to procure mobile equipment from Chinese vendors who become the successful bidder in the tendering process, for 3 years, citing flimsy and non -existent security considerations while freely allowing private operators to procure equipment from same Chinese vendors. This is how politicians and Ministers, all together lined up to finish BSNL and allow private operators to flourish.



Against all these severe policy impediments, BSNL employees and the management worked in cohesion in an exemplary manner for revival of BSNL, in the year 2013-14, when the company almost faced similar financial crisis that it is confronted with today. Concerted efforts by the Trade Unions and Associations in BSNL by launching various innovative initiatives like

Customer delight years,

Service With A Smile program, BSNL At Your Doorstep

etc to improve the quality of service, sales, marketing etc. produced spectacular results and BSNL witnessed a remarkable and unprecedented upward growth trajectory, resulting in considerably closing its losses in an incredible manner from 2014-15 onwards



These cohesive and committed efforts of the Management and the workers which produced tangible results forced Prime Minister to declare at the Red Fort that BSNL is on recovery path and has started making profits. Also Minister Of Communications repeatedly assured in the Parliament and the employees of BSNL that Govt. is committed to support BSNL. But these shallow declarations and commitments of the PM and the MOC ran completely counterproductive and contrary to what has been visible on the ground - well planned and systematic extinction of BSNL to create enough space for vested interests to grow, flourish and capture fertile telecom market. It was just unbelievable to find PM crossing all the limits of propriety and officialdom by taking up the mantle of promoting the launch of R-Jio, virtually acting as its brand ambassador. Public posturing by the Govt. regarding revival of BSNL is fully and publicly unmasked after witnessing how policy has been tweaked and brazenly breached to ensure that Reliance-Jio makes forays into fertile telecom market.





Following chronological sequence of events clearly establishes the nexus of top policy makers of Telecom in the Government with the well identified vested interests to enable them to grow by hook or by crook, and also leaves no one in any doubt whatsoever about diabolical intentions of the Govt. to consign this great telecom company of the Country to flames.





1. Premeditated appointment of Shri R S Sharma as TRAI Chairman to allow R-Jio to blossom and capture telecom market:

Handpicked appointment of Shri R S Sharma as Chairman/TRAI and his subsequent extension for another two years has facilitated the Govt. to accomplish what it wanted – unhindered and unquestioned growth of R-Jio and decimation of telecom market, particularly BSNL. The way he allowed predatory pricing indulged in by R-Jio to continue unabatedly raises very big questions about his professional integrity and establishes that he fulfilled the agenda for which he was roped in. The way he changed the definition of "Strategic Market Player" and thus paved the way for R-Jio to illegitimately capture telecom market also establishes his loyalty to his political masters. The decisions that TRAI has taken under R S Sharma's infamous leadership not only decimated telecom sector in the country but also jeopardized growth of PSBs whose good public money of nearly 6.10 lakh crores got converted into NPAs because private operators explicitly warned the Government about their inability to service the loans of PSBs because of the so called deadly effects of predatory pricing on their revenues.




2. Shifting of Telecom Minister Shri Ravi Shankar Prasad just before the launch of R-Jio as Telecom Minister who openly supported BSNL:

Shri Ravi Shankar Prasad as Telecom Minister openly supported BSNL at every level. Just before the launch of Reliance –Jio, he was divested from the charge of Telecom Minister and a very junior Minister of State was given just additional charge of Telecom.




3. Sacking of Shri J S Deepak, Secretary DoT, for his vehement opposition towards predatory pricing by Reliance-Jio and the stand of TRAI on predatory pricing and other crucial issues:




An honest officer having highest professional integrity and concern for the Telecom Industry, strongly opposed the predatory pricing of Reliance-Jio and the stand of TRAI, justifying the predatory pricing. Smt Arundhathi Bhattacharya, the then SBI Chairman was the first to signal the alarm bells, mentioning the stress in Telecom Industry, growing NPAs and urgent need for corrective measures. As Chairman Telecom Commission, Shri J S Deepak took stand to protect the industry and urged upon Chairman, TRAI to stop the predatory pricing of Reliance Jio because of its deadly consequences to the whole Telecom Industry. The result of his tough stand against predatory pricing was that he was unceremoniously removed from the position of Chairman/TC.




4. Niti Aayog recommendation to Close down BSNL and MTNL:

The sole objective of Niti Aayog is to garner as many resources as possible through sale of PSUs and BSNL is not an exception. The highest policy making body that ought to be fully engrossed in formulating a comprehensive road map for growth of vital sectors of Indian economy is preoccupied by such ticklish and parochial issues. Revival of BSNL is not even their agenda, rather their eyes are on the money going to get on disinvestment or sale of BSNL once BSNL become sick!




5. Non allotment of 4G spectrum:

Non allocation of 4G spectrum is a very calculated and motivated move of the Govt. aimed at allowing R-Jio to capture fertile data market in the Country. All the operators, except BSNL launched 4G services two and half years back and captured the market. BSNL already lost the edge in competition. For 4G spectrum, in consultation with DoT, a detailed Project Report was approved by BSNL Board and submitted to DoT in December, 2017. Anticipating 4G spectrum, BSNL spent hundreds of Crores of rupees and procured the 4G equipments but dumped in store. Other operators are working towards 5G whereas BSNL is not even allotted 4G spectrum by the Govt, the 100% owner of BSNL. Without 4G services, how BSNL can compete with other operators in the market? If it would be the case of a private operator, whether the Minister and the bureaucracy in DoT would have had the courage to delay the proposal like this?




6. Non-filling of Director (Fin) and other Director posts of BSNL for years together.

This is a clear indication of Govt's step motherly treatment for BSNL. This created policy paralysis and delayed decision making in BSNL which in turn resulted in negative growth. DIR(Fin) post is vacant since December, 2013 and DIR(HR) was given additional charge. Net result is that neither the responsibility of DIR(HR), nor the responsibility of DIR(Fin) is being met by the same person. DIR(CM) post is vacant since July 2018. DIR(EB) and DIR(HR) are retiring during March and April, 2019. For the revival of BSNL, just one Director will be there in BSNL from May, 2019 onwards instead of five!




7. Govt projects NOFN, NFS, LWE etc allotted to BSNL without much returns, forcing BSNL to bleed

.

BSNL attention is diverted from the core Telecom business to these Govt projects as the Hon Minister and Secretary DoT is constantly and directly, monitoring the progress. In none of such meetings, they reviewed the performance of BSNL in the respective Circles. CGMs are more concerned about the Govt projects at the cost of BSNL services. BSNL resources are largely diverted for these projects including manpower, stores, vehicle, resources etc. In return, BSNL is getting paltry amount for implementation of these projects. For NFS Project, implementation charge was originally 7.5% (Rs 930 Cr) of the project cost of 13,334 Crores. When Project was revised double to Rs 24,664 Cr, implementation charge was frozen to same 930 crores, now just half (about 3.75%). Implementation cost should have been revised to 1850 crores from 930 crores but Govt compelled BSNL to complete the project without any hike in the implementation charges. The Govt projects gives an impression to the public that the entire public money goes to BSNL as grant or financial assistance but the fact is just the reverse. The statement made by our Hon Minister is also on the same lines, giving an impression that all this money is given to BSNL as financial assistance by the Govt. DoT compelled BSNL to act as a vendor for implementing the Govt projects, instead of focusing as a Telecom Service provider.




8. Tower Subsidiary formation:

The Govts decision to form Tower Subsidiary Company is another move to weaken BSNL by taking away the BSNL assets and potential revenue earning wing of BSNL. It is part of a larger conspiracy to disintegrate BSNL into smaller entities like Optical Fibre Corporation, Land asset monetization etc etc and ultimately sell out BSNL and retrench the employees.




9. Charging of excess Pension Contribution.

Non refund of i) excess Pension Contribution of Rs 2100 Cr and ii) penal interest on BWA spectrum refund (Rs 2360 Cr) and iii) other amount due for BSNL: DoT is deliberately taking the pension contribution on the maximum of the pay scales irrespective of DoP&T order against that. The penal interest for delay in refund of BWA spectrum charges after its refund also is a huge amount. All together, total amount comes to around 6,000 Cr which is not paid by DoT to BSNL and is starving BSNL.




10. Non-granting of permission for Bank loan etc.

BSNL is the only operator given real challenge to Reliance Jio. DoT is deliberately not allowing BSNL to expand and maintain the network by capital infusion or by availing bank loans as done by other operators. Lakhs of Crores of loan is availed by Private Operators to expand their network. Upto 2017-18, total bank loan for Telecom sector is more than 6.1 lakh Cores in which BSNL share is just 11,500 Crores, less than 2%! Huge investment is required in Transmission network, mobile network and EB segment to compete with other operators. Without new Technology, BSNL cannot compete with others. DoT is creating industrial unrest and making BSNL sick intentionally to help other operators.




11. Commercial utilization of the land atleast to Govt/PSUs.

All the business proposals from BSNL are negated by DoT. Proposals delayed are proposal denied and BSNL lost the opportunity. BSNL submitted a land management policy in July, 2018 to DoT for the effective utilization of its land assets and its monetization. BSNL is having about 800 Cr businesses in its hand already and has the potential to generate another 4000 Cr to 5000 Cr revenue from this proposal alone. However DoT is not approving the proposal which is having such a huge potential.




12. IMG bailout of private operators:

The Inter Ministerial Group (IMG) formed by the Govt to bail out the private operators handed out huge concessions to them. The IMG made the recommendations in record time and Union Cabinet approved the recommendations even without assessing the losses which the exchequer will incur. As policy concessions having thousands of Cores implications, Govt extended the repayment period from 10 years to 16 years, Penal interest slashed from 14% to 10% and license fee etc slashed from 7.5% of AGR to 4.5 %. At the same time Govt is not giving any support to its own PSU, BSNL, let alone concessions! No 4G spectrum, no permission for bank loan, no permission for land and asset monetization, not filing crucial Director posts etc.




13. Non implementation of 3rd Pay Revision and pension revision not done to create industrial unrest in the company:

Entire Telecom sector is under stress, BSNL which is operating in uneconomical areas cannot be an exception. BSNL employees are not responsible for the present financial condition. BSNL employees are eligible for pay revision as in the case of Govt /Bank/insurance etc employees. On the 3rd Pay revision for the CPSUs, it is very relevant to mention that 7th CPC report is implemented for all the Central Govt employees without considering profitability or affordability. There are very sound, irrefutable, legitimate and justified reasons for the Govt. to treat BSNL on a different footing and exempt it from the affordability clause. In the case of BSNL, manpower cost should not be linked with profitability or affordability. Almost 70% of BSNL employees (1.34 lakh out of 1.71 lakh) are Govt employees absorbed from DoT into BSNL. After BSNL formation, BSNL has paid about 1.8 lakh Crores as salary to its employees from its own resources, without Govt support and saved that much money for the Govt exchequer. If BSNL was not formed, the entire financial burden of pay and pay revision would have had to be borne by the Govt. Now the employees are treated as liability by the Govt. But the same employees, with an additional one lakh, made Rs 10,183 Crores profit during the year 2004-05! It is not the employee cost, the revenue has come down drastically, mainly due to the Govt policies and mismanagement, that is the fact. Had the revenue increased proportionately, this crisis would not have reached.




BSNL pensioners are Govt pensioners under Rule 37A, governed by the same CCS Pension Rules, 1972 where the pension is paid by the Govt. The pension revision for the Central Govt Pensioners made as on 01.01.2016, creating an anomaly with BSNL pensioners. Last pension revision for BSNL pensioners done through a Cabinet decision, setting a precedence. BSNL viability or affordability is not applicable for the pensioners. Govt. is deliberately denying Pay Revision and Pension Revision to create industrial unrest in the company and thereby facilitating growth of other operators.




14. All new businesses are given to the Reliance –Jio:

It is a known fact that Govt machinery is misused in favour of Reliance Jio. The services to Railways, Banks, Airports etc where BSNL service was provided earlier is moved to Reliance Jio. All these cannot happen without the knowledge of the Govt and BSNL is the victim.




15. Settlement of left out issues of 2nd PRC.

Non settlement of issues like E2/E3 pay scales, 30% Superannuation benefit to BSNL rects are clear indications where the industrial unrest and demoralization of the employees is being intentionally created with ulterior motives of destabilizing and completely jeopardizing the growth of the Company.





Comrades, this kind of gravest ever crisis that the Govt. has created only with sinister motives to promote R Jio and that threatens to tear the company into pieces has to be met with never before seen kind of determination, commitment and conviction to hit and fight back. This is not the time where this and that has to be analyzed and reckoned. This is the time when we have to rise above all considerations of this and that. This is the time when like a rock we have to stand and withstand this endangering hurricane. When our bread and butter and the livelihood of our families are endangered, we have just nothing to be scared of or loose. Human endeavour, commitment and determination has created miracles and when our very existence is gets perished, the only way out is to fearlessly, ruthlessly and courageously wage a war and the present situation is nothing but a war like situation. And if that means taking the war to the doorsteps of the PM, we have to take it. There is no other option. Just get ready for waging that war which is going to be protracted and deadly. It does not matter what happens to us because we are already sunk deep into waters, whether we get killed or emerge victorious. We have no other choice.
---
21.03.2019

---
13.03.2019

As per AUAB call we will be starting the social media campaign shortly on REVIVAL OF BSNL through Twitter to PMO, narendramodi, manojsinha, CMDBSNL, DoT etc.



A Twitter account

@savebsnlindia

is created for that. As a BSNL employee and well wishers, we have decided to raise our issues through social media platforms too. We seek your cooperation regarding the same and please spread it to every nook and corner of the country. Give maximum publicity and create accounts for the employees and their family members and relatives also. All CSs, CHQ OBs should ensure that re-tweet is done by all Executives, Non- Executives, our family members, friends, our franchisee sales teams as guided and ensure that daily more than 25000 re-tweets is being done. Procedure is given below.



Step 1:

Create a Twitter account if you do not have.




Step 2:

Follow @savebsnlindia & click on bell icon to enable instant notifications

.


Step 3:

Then Re-Tweet whatever messages, tweets posted by @savebsnlindia to:




@narendramodi_in




@narendramodi




@PMOIndia




@manojsinhabjp




@DoT_India




@CMDBSNL





This will ensure that our issues are directly reaching to Hon Prime Minister and Hon MoS (Communication), DOT and CMD/ BSNL.





Further You may also re-tweet @savebsnlindia original tweet with your own comments, emotions, you may include @narendramodi, @narendramodi_in, @PMOIndia, @manojsinhabjp, @CMDBSNL, @DoT_India, @BSNLCorporate and write hashtag #SaveBSNL in your re-tweet.





#SaveBSNL is to be included in every such tweet, re-tweet & comments.
---
02.03.2019
As per call given by AUAB launch hour demonstration was conducted at circle office as well as SSA headquarters in protest against the non-payment of salary for the month February 2019 by BSNL and demanding the DoT, to immediately grant sanction to BSNL, for taking bank loans. Comrades of All Unions and Associations participated in this demonstration.


At circle office ,Vijayawada Com. J Umamaheswara Rao CS SNEA, Com P. Asoka Babu CS BSNLEU and Com CH Chandrasekhar CS NFTE and other leaders of AUAB addressed the huge gathering .


SNEA AP congratulate the comrades who participated in the Launch hour demonstration and made it grand success.
View Photos